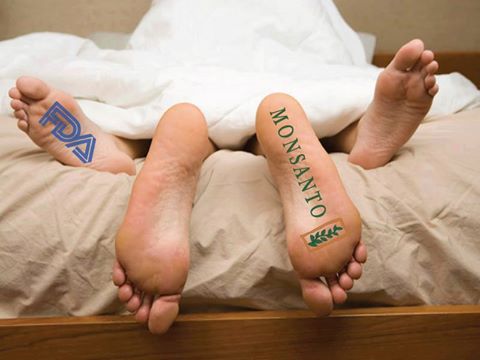 Although this video is a couple of years old, I'm glad I came across it. The countless connections between Monsanto and government agencies like the FDA are – if you're not aware of them – important things to consider. There are a number of examples of Monsanto employees swapping positions to take roles within the FDA and vice versa, and such behaviour is one (of many) examples of our hidden social and political reality. We perceive ourselves to live in a democratic society, but in reality we live within a  "corporatocracy." If we lived in a democracy, the demand for GMO labelling would have been heard and action taken; there wouldn't be such resistance from the government to be transparent about what people are buying and putting into their bodies. In fact, it seems likely that if we did actually live in a democracy, GMOs wouldn't even exist. There is a reason why they are banned, or have severe restrictions on them, in multiple countries around the world.
---
We're creating viewer supported news. Become a Patron! Click Here!
---
The "Seralini" study is one of the best examples, In the study, 100 female and 100 male rats were used . In both sets, some rats were fed NK603, some the GM maize sprayed with Roundup, and the third group was given drinking water with the lowest permissible limit of Roundup. A fourth, control group was fed a standard diet of the closest variety of non-GM maize.
According to the peer-reviewed paper published in Food and Chemical Toxicology, a journal from the reputed Elsevier stable, rats that fed on NK603 or given water containing Roundup died much earlier than the rats in the control group and developed hormonal and sex-related effects. Females developed significant mammary tumours, pituitary and kidney problems, while males died mostly from severe kidney failure. Up to 50 per cent of the male rats and 70 per cent of females died prematurely, compared with only 30 per cent and 20 per cent in the control group.
This would, and should, basically mark the end of GMOs, along with all of the other studies that have raised other concerns and have seen strong correlations between GMOs and multiple diseases.  Here is one of multiple examples.
After the research was completed, it went through rigorous reviews, as well as a four month review process by scientists and researchers. It was eventually approved and published, only to be retracted by request of the Journal. Although hundreds of scientists around the world condemned the retraction, and the researchers addressed the criticisms.
When the original study was retracted , it was done so by the journal's editor, A. Wallace Hayes. It was also coincidentally done after the appointment of a former Monsanto scientist, Richard E. Goodman, to the editorial board. Again the study was republished with all the criticisms addressed, but this only happened after the studies reputation was damaged due to the corporation, Monsanto.
Fast forward a few years later and secret internal Monsanto documents were released in 2017 by legal firms in the United States. In these documents, it was quite clear how Monsanto pressured Wallace Hayes, Editor of Food and Chemical Toxicology, to retract the study.
You can access those documents here.
A 2013 New York Times poll determined that 93% of Americans want a label, they want to know what is in their food.
This is exactly why citizens in the United States have had such a difficult time in their quest to at least see labels on Genetically Modified (GM) foods and Organisms (GMO).
Thanks to Abbey Martin at RT news for creating this video (and the many more that she does).
"As part of the process, they portrayed the various concerns as merely the ignorant opinions of misinformed individuals – and derided them as not only unscientific, but anti-science. They then set to work to convince the public and government officials, through the dissemination of false information, that there was an overwhelming expert consensus, based on solid evidence, that GMOs were safe." – Jane Goodall (source)
---