Noted conspiracy theorist David Icke has reportedly had his Australian visa cancelled just hours before he was due to board a flight to Melbourne for a speaking tour.
Icke — whose theories range from extraterrestrial lizard people controlling the earth, to the September 11 terror attacks being an inside job — was due to undertake a two-week speaking tour of Australia off the back of his latest self-published book.
However, 10 understands Immigration Minister David Coleman has cancelled Icke's visa at the eleventh hour.
The Immigration Department said it does not comment on individual cases.
In a statement, Icke said he was "shocked and appalled" to have been "banned", claiming he had been the victim of a "smear campaign from politicians".
"I am not anti-Semitic. I am not a Holocaust denier. I do not wish to have Holocaust denial be taught in schools," he said.
https://twitter.com/davidicke/status/1098097651357147139/photo/1?ref_src=twsrc%5Etfw%7Ctwcamp%5Etweetembed%7Ctwterm%5E1098097651357147139&ref_url=https%3A%2F%2F10daily.com.au%2Fnews%2Faustralia%2Fa190220fna%2Fconspiracy-theorist-david-icke-has-visa-cancelled-hours-before-australian-tour-20190220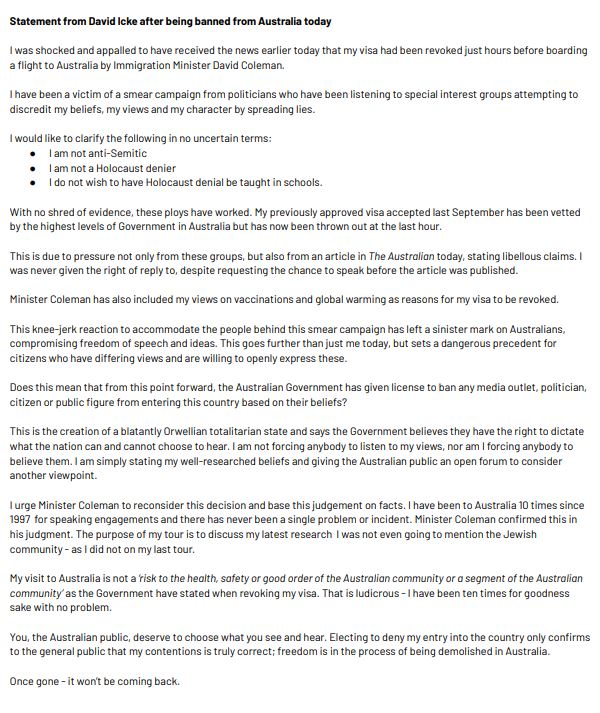 The Liberal Party candidate for the federal seat of Macnamara, Kate Ashmor — who has been petition Coleman internally over this issue — told 10 daily welcomed the news, and said that Icke's "abhorrent views have no place in Australia."
The newly formed seat of Macnamara includes St. Kilda, which saw alt-right groups rally and give the Nazi salute earlier this year.
"Today's welcome news reaffirms the Morrison government's steadfast support for the Jewish community and Holocaust survivors, many of whom live in Macnamara, including my grandparents," Ashmor said.
Her Labor opponent, Josh Burns, also welcomed the news, telling 10 daily the recent St Kilda rallies "should be enough of a reminder that we don't need Mr Icke's ugly hate coming to our proudly multicultural Australia."
It comes after the Anti-Defamation Commission launched a campaign in early January to have Icke's visa revoked.
The ADC's Dr Dvir Abramovich praised Coleman's decision.
"This was a defining moment for who we are as a nation, and we salute the government for taking a clear-eyed and moral stance in rejecting hate and incitement," he said.
"Allowing Icke into our country would have crossed red lines and would have sent the message that it is open season on the Jewish community and that vilifying and maligning Australian Jews is okay and normal."
Icke said those with tickets to the speaking tour will be contacted on Thursday.
Contact the author: [email protected]