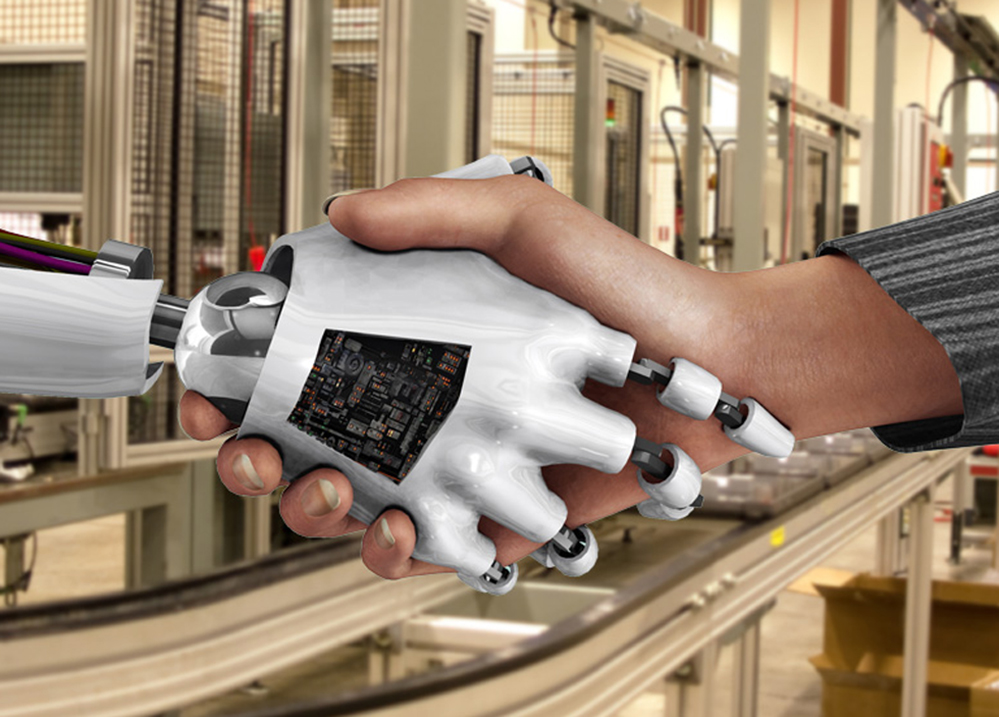 By Aaron Kesel
Elon Musk claims that universal basic income (UBI) — essentially, free cash handouts — "will be necessary over time if (AI) artificial intelligence takes over most human jobs."
Universal income will be necessary over time if AI takes over most human jobs

— Elon Musk (@elonmusk) June 15, 2018
In November 2016, Musk previously told CNBC that automation would lead to the need for cash handouts; CNBC now reports:
"There is a pretty good chance we end up with a universal basic income, or something like that, due to automation," Musk told CNBC. "Yeah, I am not sure what else one would do. I think that is what would happen."
This comes as artificial intelligence is replacing more and more jobs daily.  Last month, Activist Post reported that University College London Hospitals (UCLH) and the Alan Turing Institute aimed to bring 'game-changing' benefits of artificial intelligence to NHS patients and replace some workers in the hospital.
Coup d'etat in Slowmotion


by Ole Dammegard

For almost 30 years investigator Ole Dammegård has been on a quest to find the truth behind some of the worst conspiracies in the history of world – such as the murders US President John F. Kennedy, Robert Kennedy, John Lennon and the blowing up of m/s Estonia killing at least 852 innocent people. This has taken him on a very frightening and dangerous journey into unknown territories. What has been claimed as acts by lone madmen has turned out to be connected to the International military industrial complex and top level high finance, all sanctioned locally behind dark smoke screens. This ground breaking book focuses on the assassination of the Swedish Prime Minister Olof Palme, who was gunned down in February 1986. In Volume I secret agents, mercenaries, professional assassins, top politicians and innocent scapegoats fill the pages of this explosive book which shows a side of Sweden and the western world earlier glimpsed by very few. This is not the private opinion of one individual, but the disclosure of a puzzle so vast that it blows your mind. Let the detailed content speak for itself, but do not accept it uncritically. Read it – make up your own mind – then spread it.

To preview the book click on the thumbnail below:

[columns] [column size="1/2″]Vol 1 Paperback[/column] [column size="1/2″]Vol 2 Paperback[/column][/columns]

---

Buy The eBook here
Recently Activist Post also reported that even finance wasn't safe from the robot apocalypse. China Construction Bank (CCB) opened a Shanghai branch run entirely by robots in a testing phase for finance with little to no human involvement.
Robots are beginning to take over every aspect of society.  They are also headed for retail businesses delivering freight and eliminating truckers. But, again, robots malfunction. In fact, it sounds quite dangerous allowing a freight truck to drive itself; if the sensors break down on a big rig truck going  60-70 MPH, that's potentially 40 tons barreling down the highway unattended except by artificial intelligence. As Activist Post reported back in March, Uber had to halt nationwide testing of its A.I. vehicles following the death of a pedestrian in Arizona. And that was a car actually attended by a human back-up operator.
Automation clearly isn't a foolproof technology, and it can also be exploited by hackers for malicious purposes that could even include programming a bot to kill an individual.
I also foresee McDonald's and other fast food chains and big corporations like Wal-Mart potentially being robbed as people steal products while a single human attends the machines.
Not even journalists are safe from robot replacements.
All this sets a potentially dangerous precedent. We already have a lack of work – what happens when the great robot apocalypse occurs? Things aren't going to be pretty. With robots taking our jobs, who will afford these products? One potential solution is to shift away from a monetary economy and more towards a self-sustainable resource economy like the proposed  "Venus Project."
Even fast food chains and restaurants in the past few years like McDonald's have decided to experiment to see if they can replace workers with robots. While McDonald's or any business isn't going to replace workers overnight, the transition will happen quicker than a lot of people think.
In other news, just to further the divide between humans and machines, a robotic A.I. by IBM dubbed Project Debater beat a human being in a debate, CNET reported.
"From our perspective, the debate format is the means and not the end. It's a way to push the technology forward and part of our bigger strategy of mastering language,"  Aya Soffer, who runs IBM Research's global AI team said. "In general, computers are lagging significantly in understanding and being able to express themselves. If we expect AI to be useful, being able to communicate with people is critical."
The Tesla founder has previously said that artificial intelligence is potentially more dangerous than nuclear weapons.  That's a shared thought with scientist Stephen Hawking, who also previously warned that "artificial intelligence could spell the end for the human race If we are not careful enough because they are too clever."
This is the beginning of The Terminator movie, as even scientists agree that machines will begin to think for themselves in the near future and could be a threat to the human race.
To highlight that point of being "more dangerous than nuclear weapons," meet MIT's serial killer artificial intelligence Norman, a disturbed image-captioning A.I. obsessed with murder. What will science create next?
Aaron Kesel writes for Activist Post. Support us at Patreon. Follow us on Facebook, Twitter, Steemit, and BitChute. Ready for solutions? Subscribe to our premium newsletter Counter Markets.
---