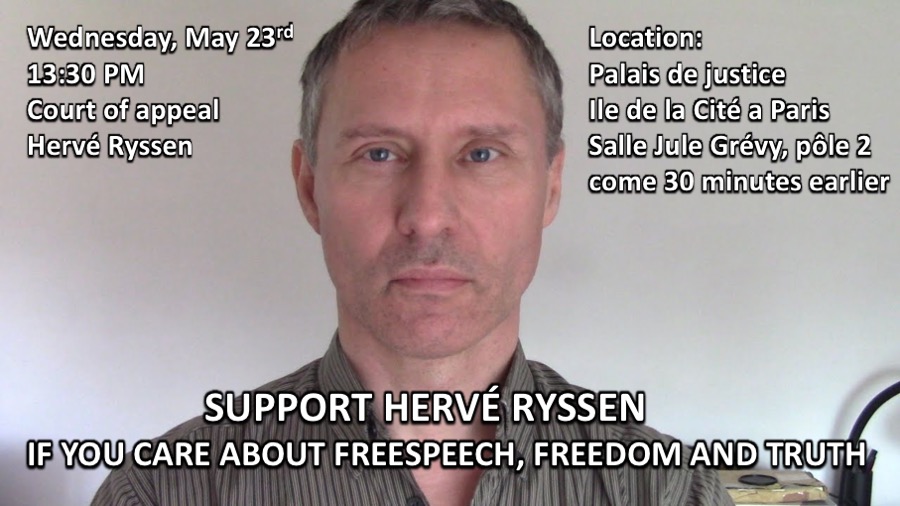 In this short video Hervé Ryssen gives a latest update (May 9th) regarding his upcoming trial on the 23rd of May in the Court of Appeal in Paris. Chances are that he will be (re-)imprisoned directly after. So active support is very much needed in his battle in the jungle of "laws according the traditions of men".
He was already sentenced for 11 months alone for tweets and facebook posts for which he served 2 months. There is no clear charge but, as Hervé explains in this short video, it probably will be about words he used in his tweet "the Jews played a terrible role in Bolshevism and killed 30 million Christians between 1917-1947″ in which he should have said some Jews. And/or about his comments in the video "Jews, incest and hysteria" in which he merely quotes Jews themselves. And/or in his little red book "Understanding the Jews, Understanding Anti-Semitism", which is a summary of six 400 page books written by Hervé Ryssen, published between 2005 and 2010, constituting the most important study on the Jewish mind ever published.
It is not yet clear what charges will be created this time according the "Traditions of Men" but PRO-ACTIVE support is very much needed.
Please come to Paris to support Hervé on the 23rd of May.
Location:
Palais de Justice
Ile de la Cité a Paris
Salle Jule Grévy, pole 2
Time: 13:30PM, be 30 minutes earlier for consideration of queue

Like Alfred and Monika Schaefer, Ursula Haverbeck, Sylvia Stolz in Germany and Alison Chabloz in UK and many more, Hervé stands for the Truth. He is example and inspiration for those who really want to serve the Truth and humanity. We need to support our warriors on the frontlines, please share this information as much as possible.
Please share this message as much as possible and come to Paris on the 23rd to support Hervé
Original Article