Notice
: Function WP_Scripts::localize was called
incorrectly
. The
$l10n
parameter must be an array. To pass arbitrary data to scripts, use the
wp_add_inline_script()
function instead. Please see
Debugging in WordPress
for more information. (This message was added in version 5.7.0.) in
/home/admin/web/lightonconspiracies.com/public_html/wp-includes/functions.php
on line
5835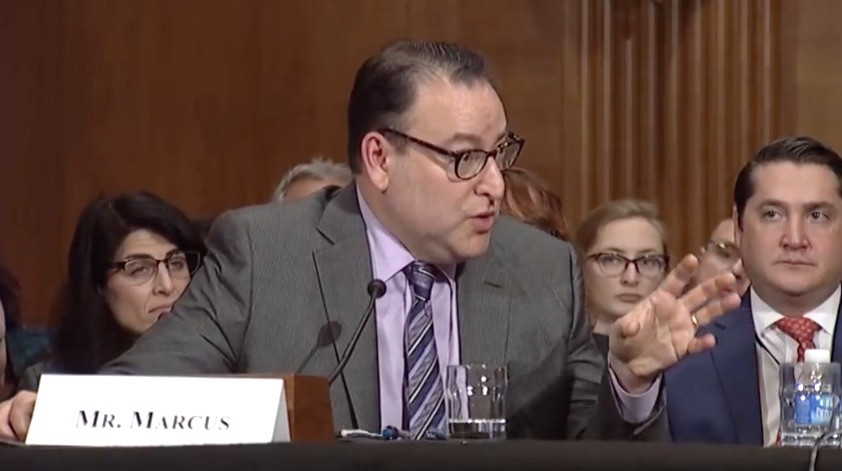 By Aaron Kesel
Apparently, law enforcement now includes the Department of Education according to an official who described his office's duty as "law enforcement" and not "social justice."
The Education Department's assistant secretary for civil rights, Kenneth L. Marcus, made the remark when he was discussing the department's approach to discrimination in schools, The Washington Post reported.
"We enforce the laws that Congress passes as written and in full — no less and no more," Marcus told WaPo. "We are law enforcement officials, not advocates or social justice people."
"Justice delayed is justice denied," Marcus said, describing the department's transition to deliberating individual cases instead of investigating "systemic" bias on campuses, a more time-intensive process.
BOOK AD
Coup d'etat in Slowmotion
by Ole Dammegard
For almost 30 years investigator Ole Dammegård has been on a quest to find the truth behind some of the worst conspiracies in the history of world – such as the murders US President John F. Kennedy, Robert Kennedy, John Lennon and the blowing up of m/s Estonia killing at least 852 innocent people. This has taken him on a very frightening and dangerous journey into unknown territories. What has been claimed as acts by lone madmen has turned out to be connected to the International military industrial complex and top level high finance, all sanctioned locally behind dark smoke screens. This ground breaking book focuses on the assassination of the Swedish Prime Minister Olof Palme, who was gunned down in February 1986. In Volume I secret agents, mercenaries, professional assassins, top politicians and innocent scapegoats fill the pages of this explosive book which shows a side of Sweden and the western world earlier glimpsed by very few. This is not the private opinion of one individual, but the disclosure of a puzzle so vast that it blows your mind. Let the detailed content speak for itself, but do not accept it uncritically. Read it – make up your own mind – then spread it.
To preview the book click on the thumbnail below:
Vol 1 Paperback
Vol 2 Paperback
Buy The eBook here
Marcus was referring to an initiative by the Obama administration aimed at stopping schools from funneling black students into special education programs — programs which were delayed two years by the current Education Department in June.
Marcus and the Department of Justice then teamed up to rescind guidelines advising colleges on how to legally implement affirmative action in their admission programs in early July.
Marcus and Education Secretary Betsy DeVos are also now thinking about repealing guidelines that advise school districts to inspect whether they are more harshly punishing black students, according to WaPo.
Who knew that the Education Department was an added branch of law enforcement? I wonder if they can use their newly obtained power to raid all the people who have a late overdue ancient missing library book? Get 'em, Merica for education!
It seems with this latest case of mistaken identity by Kenneth L. Marcus, we were right all along that they really do want to make schools into prisons, especially since cameras are increasingly being put into schools including in a creepy trend in bathrooms.
It's all starting to make sense now…
Activist Post previously reported how the Police State was increasing with a Mexican Border Patrol officer, Joel Lopez, impersonating a police officer pulling over an American Mexican citizen for speeding, during what he claimed was an "immigration inspection."
A Border Patrol agent doesn't have the authority to pull someone over for speeding, at least not to this writer's knowledge of the law; the agent also couldn't prove it as they aren't equipped for the job, without radar detectors that can log a person's speed.
So in the same retrospective instance, the Department of Education isn't equipped for the job of "law enforcement." Nor do they have the authority to arrest someone for breaking the law.
It seems that power is going to these people's heads blowing them up like a hot air balloon. They are all trying to claim more power than they are entitled with their current occupation.
Whether it's a Border Patrol agent trying to play traffic cop or an official at the Education Department stating "we are law enforcement officials." There is a reason why there is a separation between occupations and not everyone is a law enforcement officer.
"The Obama administration was basically saying, 'Even if there's no evidence of discrimination or implicit bias, you can still be found guilty of violating kids' civil rights,'" conservative nonprofit Thomas B. Fordham Institute president Michael Petrilli told WaPo. "It would be naive to think we're not going to see racial differences when the experiences kids are having vary so dramatically."
It's quite telling and alarming that an Education Department official stated him and his colleagues were "law enforcement officials."
H/T: MassPrivateI
Aaron Kesel writes for Activist Post. Support us at Patreon. Follow us on Minds, Steemit, SoMee, BitChute, Facebook and Twitter. Ready for solutions? Subscribe to our premium newsletter Counter Markets.
---