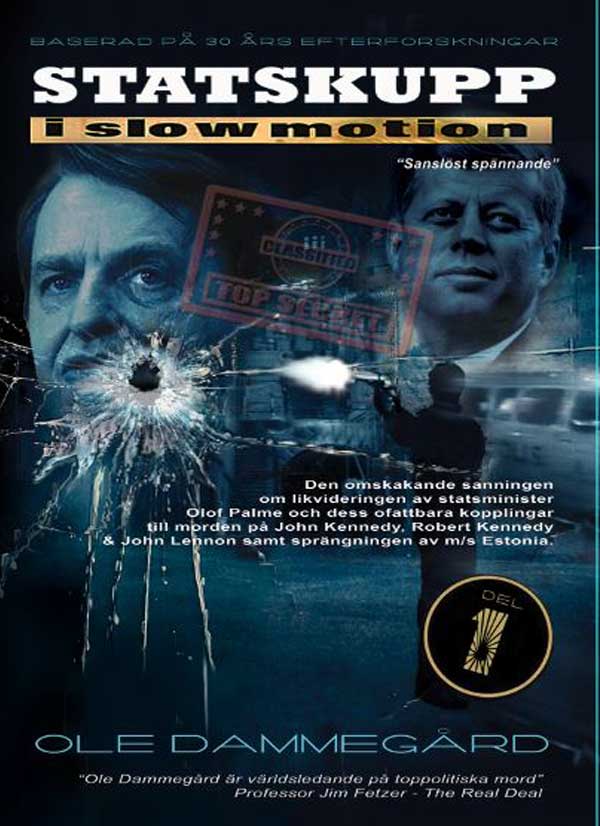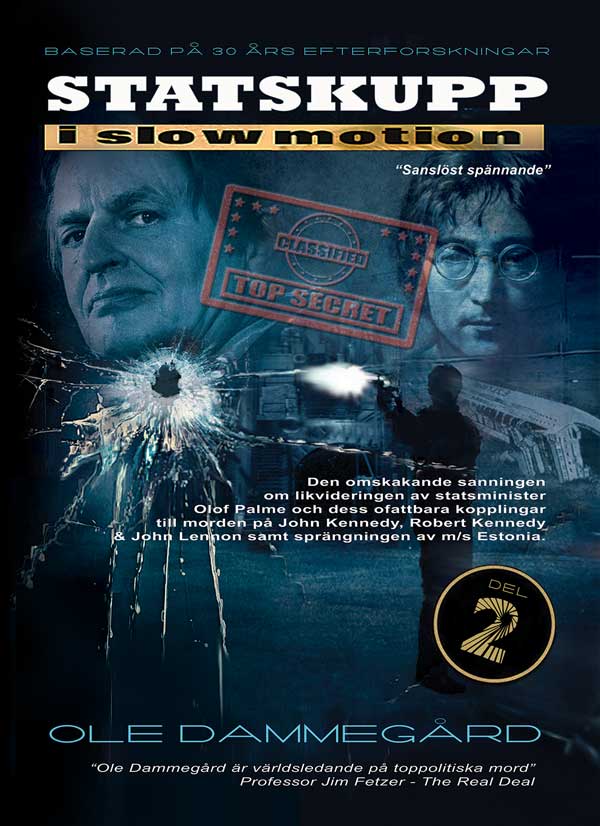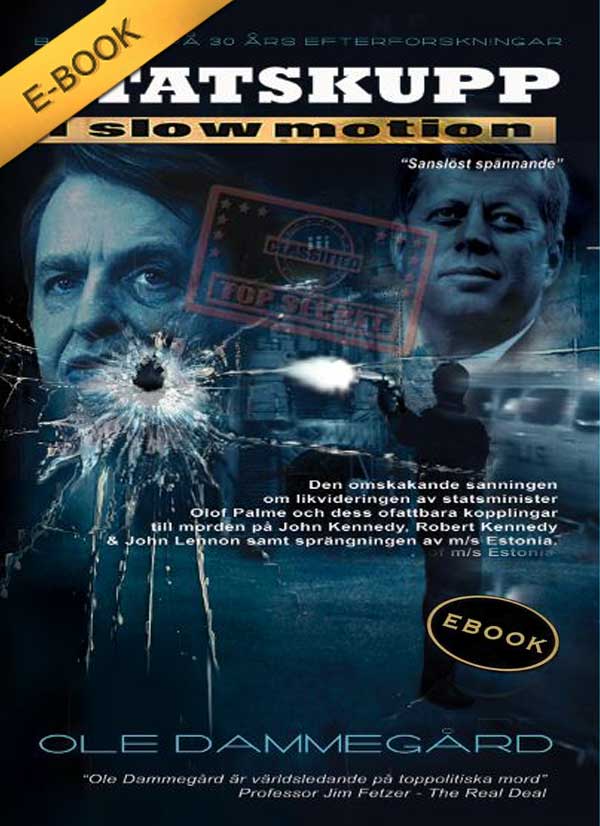 Under många år försökte jag få min bok 'Statskupp i Slowmotion' publicerad, något som visade sig mycket viktigt men samtidigt extremt farligt. Det har inte bara försatt mig själv i fara; avslöjandet av de verkliga omständigheterna bakom mordet på Sveriges statsminister Olof Palme har även kostat två nära vänner livet.
'Statskupp i Slowmotion' är inte vilken bok som helst, men en mycket detaljerad studie av den största mordutredningen i modern tid (mer än 900 sidor med många foton, hemliga dokument och detaljerade kartor). Det som fortfarande påstås vara en ensam galnings verk har visat sig vara kopplat till det internationella militärindustriella komplexet och iskall storfinans på högsta nivå, allt sanktionerat lokalt bakom mörka kulisser.
För första gången avslöjas hur det så kallade Polisspåret, Sydafrikaspåret och Boforshärvan inte utesluter varandra – de är istället koppade ihop. Här exponeras allt minut för minut, dag för dag, blandat med hemligstämplade protokoll, kartskisser, mördarens eget handskrivna brev och bevismaterial så manipulerat att det kan få vem som helst att tappa hakan. Vi talar här om en internationell konspiration av samma storlek som den som låg bakom mordet på John F Kennedy. Faktum är att det handlar om samma maktelit bakom båda dåden.
Min forskning har fört mig in i en värld av internationella mord, vapensmuggling, terroraktioner och besynnerliga självmord såväl som till ett utbrett nätverk av pedofiler och frimurarritualer. Agenter, legosoldater, högerextrema poliser, yrkesmördare och oskyldiga syndabockar hittas sida vid sida i denna häpnadsväckande och explosiva bok som visar en bild av Sverige som få sällan skådat tidigare och som för alltid kommer att förändra bilden av denna nation.
Detta är inte någon enskild individs privata åsikt om några kontroversiella händelser, det är uppvisandet av ett pussel vars enorma bredd är svår att greppa. Många har tagit stor del i läggandet av detta pussel, starka och envisa män som Lars Borgnäs, Sven Anér, Anders Jallai, Gunnar Wall, Anders Leopold, Henry Söderström, and Fritz G. Peterson. Låt det starka innehållet tala för sig själv, men svälj det inte okritiskt. Boken är fylld av källhänsvisningar vilket gör att du som läsare själv kan kontrollera sanningshalten. Läs den – bilda dig en egen uppfattning – och dela den sedan med så många som möjligt världen över.
Då denna bok enligt många läsare är av stort historiskt värde ber jag ödmjukt alla rättighetsinnehavare till de i boken använda bilderna om tillåtelse att åtege dem i föreliggande form. De flesta bilder har fotokopierats från tidningsarkiv, databaser och liknande. Att spåra alla upphovsmän skulle vara lika tidskrävande som att skriva boken. Jag tackar därför på förhand djupt fotograferna för deras bidrag i hjälpen att lösa ett av världens största mordmysterier.
Alltsedan jag natten den 28 februari 1986, i egenskap av polisens insatsledare på mordplatsen där vår statsminister just mördats, hamnade mitt it en av nittonhundratalets största svenska politiska rättsskandaler, har jag undan för undan konstaterat att de ansvariga myndigheterna främst ägnat sig åt att mörklägga händelsen.

Jag har läst många böcker, officiella handlingar, tidningsartiklar med mera och spenderat tusentals timmar med att själv och tillsammans med seriösa privatpersoner försöka finna sanningen om mordet.

Bland de mer intressanta böckerna vill jag nämna "Statskupp i Slowmotion". Vad främst intresserat mig är den intressanta storyn, de omfattande efterforskningarna samt informationen om världsomspännande frimurarnätverk.

För alla som är intresserade av Palmemordet och dess orsaker vill jag därför varmt rekommendera denna bok.
Poliskommissarie Gösta Söderström
(Förste polis på mordplatsen)
To Access the Membership Lounge, please choose your perfect option below.