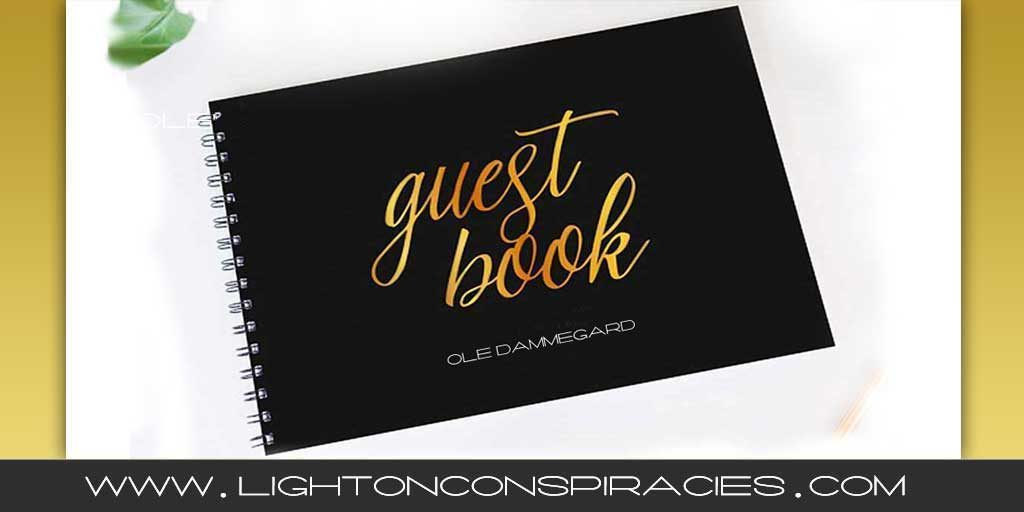 8638 entries.
Ole Dammegard - a man of honor. Like Comment Share
Wide Awake! Sharing This Wake Up Song. Thank you for the upbeat message..Brilliant! Very Much appreciated!
You guys' are the new Tears for fears if, that's to be said without stepping on anyone toe's' Wake Up - great song, great lyric's, great production. I can see why they called it 'Best song of the decade Without question a of a track P.O.W.E.R H.O.U.S.E It certainly make a change for real music' and great for humanity 🤛🏿👊🏾🤜🏼Bless You all😇🙏🏿🙏
Ole, this brilliant low key hero of the common man, has researched and exposed deep state actors of the world cabal. He and Cody Snodgres have been truth-telling for years
I love your research my dude 🦇
Det er et fantastisk arbeid du utfører ! Etter press har jeg dratt inn årene på min båt. Ønsker deg et langt/rik fortsettelse på ditt livsverk. God sommer!
It's so unbelievably important song. A million thanksgreetings to Ole Dammegard and Mo Anton. YES YES YES YES YES WAKE UP! YES YES YES YES WAKE UP! LETS Let's all together, every Sunday at 12:00 p.m. for half an hour everyone from their place where they feel comfortable, maybe with this wonderful song or in silence, do a wake up energy prayer or a wake up meditation . Every Sunday at 12:00 a.m., we all send our entire freedom and peace energies into the universe at 12:00 p.m. CET. for half an hour or longer. Jed do as he likes it. WAKE UP! WAKE UP! WAKE UP!
Hallelujah ~ powerfully beautiful, connects the soul. Thank you all for such an amazing wake up message in song. I noticed also a wonderful tribute to many on the front line in the video, well done and the children, such precious souls, we stand now and always for them and future generations. Blessed Gratitude to All.
Tip [Zeitlos, Ohrwurm für die Ewigkeit]
Wake Up würde ein Welt Hit werden würde der Mainstream positiv darüber berichten ! Klasse ! <3
Das ist der Hammer, geiler Sound und Text und wunderschön gemachtes Video !!!!!!!!!!!!
Thank you for this brilliant song ! Sunlight is the most powerful disinfectant. We, the people, are the only masters of our destiny. Nobody has the right to steal our future. Spread the word. Share this song. Viva la vida !
Fantastic Hugs from cologne germany
thank you very very much, i have tears in my eyes!
Großartig! Greetings from Frankfurt/Germany!
Thank you for all you do.
I love the way you speak and your energy !
Wake Up So Good! Thank you Ole for all you do for this planet and the awakening. Here we come!
I do appreciate your content, always
Please do a 2022 School Shooting Presentation your are the best
Wake Up is such an unbelievably important song. A million thanksgreetings to Ole Dammegard and Mo Anton. YES YES YES YES YES WAKE UP! YES YES YES YES WAKE UP! LETS
Großartiger Song und hebt meine Stimmung! Dank
Loooove the new look on the website Ole. Really fresh.
Det är ett stort nöje att navigera på nya hemsidan, den är inte bara funktionell den är sååå vacker! Du har all anledning att vara mycket stolt 🥂🌷
Du gör ett oslagbart fantastiskt arbete!!!! Du har gett mig svar på flertal händelser jag sedan tonåren bara känt att här försigår det lögner. Tacksamma hälsningar!
Jag hörde dej sista gången tala i den svenska filmen Pandamned. Bra.
Amazing!!! No words to express what this song made me feel...joy, hope, strengh, light... Thank you thank you thank you!!
Wake Up... overmindblowing VDO...luv sights n sounds...greetings, luv n light from the land of smiles aka Siam
Ole breakin a solo in the waves was great and he looked like he was having fun lol !
Wake Up! The theme song of the Anti NWO. Can't stop listening to it!
Outstanding!!! Best tune I've heard in YEARS with a CRITICAL and fundamental message. Love it and the video.
Otroligt bra låt med ett budskap som vi bara måste ta åt oss och göra något åt.
God speed. From the Nederlands God bless you all.
This song, music and video is sooo beautiful. I have watched it all morning and I have shared it everywhere. I think everyone must have the opportunity to hear it and to enjoy it - I very much hope. Well done you lovely beautiful people for making it. Thank you
I just saw this Wake Up song posted on Reiner Fuellmich's channel. I am also an activist. I wrote a couple of songs (one I just relayed 25 Years Ago) much more subtle for the cause, but I absolutely love this one! I'm going to add it to my Spotify playlist of other freedom fighter songs.
Super Song. Danke für das Video.
Thank you Thank you Thank you
This song is wonderful. WE, THE PEOPLE, CAN DO THIS.
Fight for the Light - YES - WE do it 😉
Brilliant! May this video make it out of the bubble of the already awakened!
I hope the salt air and water didn't damage the guitar.
Gran mensaje, música y textos poderosos! Compartiendo y difundiendo desde que me llegó! Millonifiquese!!
Good to see you got a plan ole you a good man but i don't think they be anywhere to go we nit be detected so how we spirit battle it for sake of good our kids grandkids,.how can a get a higher power to pray for yhe good in this battle,.have a good day ole hope you feeling better buddy.
Underbart att lyssna på dej Ole.👍🎅🎄
Lyssnade på dig Ole när du besökte Limhamn för ca 2 år sedan o jag är så tacksam att jag tog mig dit... så otroligt givande, inte minst att förstå hur så mycket hänger samman i vår värld. Du bjuder verkligen på dig själv fullt ut. Kramar 💖
Ole Dammegard - one of the best...
Ole for World President, we love you, cant say it too loud ❤️❤️❤️❤️❤️💪💪💪💪💪
Han är underbar den där Ole Dammegard, älskar han🤩 Han säger "rädslan sitter mellan dina öron"
We wish you succes with the new website. Happy Galungan day.
Tack underbara fighter! Just U t ö y a har jag missat! Nu kör vi utbildningen på bred front. Tack igen ❤
Att så många orkar bry sig om detta drama förbluffar mig... det finns ju riktiga problem här i verkligheten att lösa och lägga fokus på... Slå av dumburkarna och lyssna på vettiga människor som påvisar riktiga problem som behöver fokus och lösningar. Lennart Mattikainen, Ole Dammegard, Mikael Nordfors, Linus Noremalm är riktiga hjältar som belyser samhället och vår värld idag. Bröd och skådespel till folket.... Ska vi alla gå på den niten igen?? Eller?
Fantastiska Ole Dammegard Tillsammans♥️
Käraste fina vännen Ole Dammegård är allt värd att stötta för det gigantiska jobb han gjort i så många år och fortfarande gör för att visa oss andra bekväma mello-chips människor vad som pågår därute i stora världen. En man som för mig betyder allt när det kommer till att dela med sig som tidigare journalist och kriminalreporter. Tack kära Ole för att du fortfarande visar på det vi behöver se 🙏
Önskar så att du/ni kunde flytta tillbaka till Sverige. Vi skulle behöva er här, inte minst för att upprätthålla inspirationen till att fortsatt vara engagerade i viktiga ting och organisera oss ännu bättre. Kosmiska kramar
I have a dream and you are working for it.
Great Holohoax-video, I wish everyone would see it.
Thank you for your video Making Critical Thinking Illegal about the Holohoax! I'm utterly pissed off by the falsifying of our History! AND I'M A JEW!
Hi Ole. Talked to your lovely wife today You did good my brother. Love her already ❤ I am so happy that you have a great woman in your life. I prayed for this for you for the longest time! Love you my brother!! 🙂
Takk til deg min venn Ole Dammegard,som lærte meg det jeg kan i dag, og fra 2009 til 2020 blir det 11 år.Håper det står bra til med deg og din kone Kim & datter.Vet du ikke er her på FB lenger men skulle du plutselig poppe opp en dag håper jeg du har muligheten for å gi ett vink om alt er trygt og sikkert.Våre veier møtes uansett en dag igjen.Mine varmeste tanker til Kim og deg Ole.
Du har inspirerat mig och förändrat mitt liv. Ser mitt liv som före och efter Ole. Så stolt att ha attraherat in en sån vacker själ som dig, får nypa mig i armen ibland. Du anar inte vad du ställt till med i detta land ❤ Älskar dig.
Din bok 'Re-Mind Me'... Så bra!! 😍🙏😊👍 Och fantastiskt allt som vi fick se på filialen hos Johnny! 🤩
Från första gången jag snubblade över dig på nätet har jag känt att du är speciell. Det handlar om din själ. Jag SER människor. Jag känner balansen i dig och det är den jag tänker på när jag säger till dig att du är unik. Tro mig, min superkraft är att notera balans i allt varande. Din balans är stark. Det känns säkert inte så men det är ju för att du får utstå prövningar så att du själv ska landa där mitt i dig själv till slut ... Jag vill gärna önska dig lycka till men det behöver du inte 😃💜🤗 Allt är som det ska och du är bäst på det du gör!
Jag är så otroligt imponerad över allt jobb du gör inne på hemsidan. Det är otroligt viktiga och intressanta ämnen son jag älskar att sitta och få läsa. Du är makalöst bra på alla sätt som finns och jag är riktigt arg över all censur du tvingas gå igenom 😝 Jag har kvalitetstid i Kristinehamn med mina barnbarn så jag tankar massa energi av dom så jag klarar mig genom allt tufft som är i världen. Hälsa vackra Kim från mig. Stor kram till er båda🥰♥️
We miss you much. Really wish came the day will bring you back here and hug you my dear brother. We need you
Hej fina Ole 🤗 Jag vill att du ska veta hur värdefull du är för så många av oss 🙏 Jag känner mig blessed över att ha funnit dig 💜Jag är inte en sån person som sätter andra personer på piedestal och gör det inte heller med dig 🤪🤗 däremot så känner jag verkligen att du är en av de mest genuina människor jag mött. Du strålar av egolös kärlek och jag önskar verkligen att du känner att du får tillbaka lika mycket som du ger!!! Du är unik och värdefull - kom ihåg det 💜Jag är heller inte en person som strösslar såna här ord omkring mig utan att jag menar vartenda ett.
Jag är bara en människa som råka vakna upp till en värld som inte är som man fått lära sig 😑. Du Ole är bland dom första jag råkade korsa i uppvaknandet i all den nya informationen för min del. Tack Ole och din familj för allt ni gör och utsätter er för 🙏
'What you do in life gives echoes in eternity'. Du lyser som en fyrbåk genom hela din livsgärning i ett rasande stormigt hav. Jag är så tacksam över att vara din vän. Du betyder oerhört mycket inte bara för alla oss som känner dig och följjer din gärning, utan för hela planetens helande. Det är en kraft och ett ljus som inte går att censurera. Din värme och sanningskärlek och stora ödmjukhet lever kvar i hjärtat hos alla som har haft förmånen att möta dig eller lyssna på dig. Jag har sett det i deras ansikten. Jag har hört det i deras röst som ljusnar när de talar om dig. Glöm aldrig att du är älskad runtom över hela jorden för din gärning och för den vackra själ du är.
Tack för allt du gör, fantastiska människa.
WOW! Thanks enormously for tha amazing interview with Andy Kaufman! Love your webinars!!!Keep going! Love to all of you.
Your Work and Dedication are Inspiring. 😎
Your appearance in my podcast... wow, you crushed it. Thank you so much it was an honor to have you on.
Ole Dammegard ....han vet allt
Always, thank you for your heart-directed efforts. I support you and Kim. Please take good care
My beloved husband and I, we are sad about that you, Ole has been censured by media. We love you add miss you here in Europe 😉Namaste!The god within me bows to the god within you ;-.) and we are all little gods and goddesses like in Atlantis 😉😉 😉 😉 😉
We are the light warriors! 🙌🌟🌈
Just got sent the Good Vibrations Podcast from a friend and just wanted to say I see you. Keep up the amazing work!
Jag och min sambo pratade nyligen om att det finns inga riktigt genuina människor kvar. Men vi var eniga om att Du är en sån. Ville att du skulle få veta det. Vi ser dig 💜 Kim med så klart 🤗