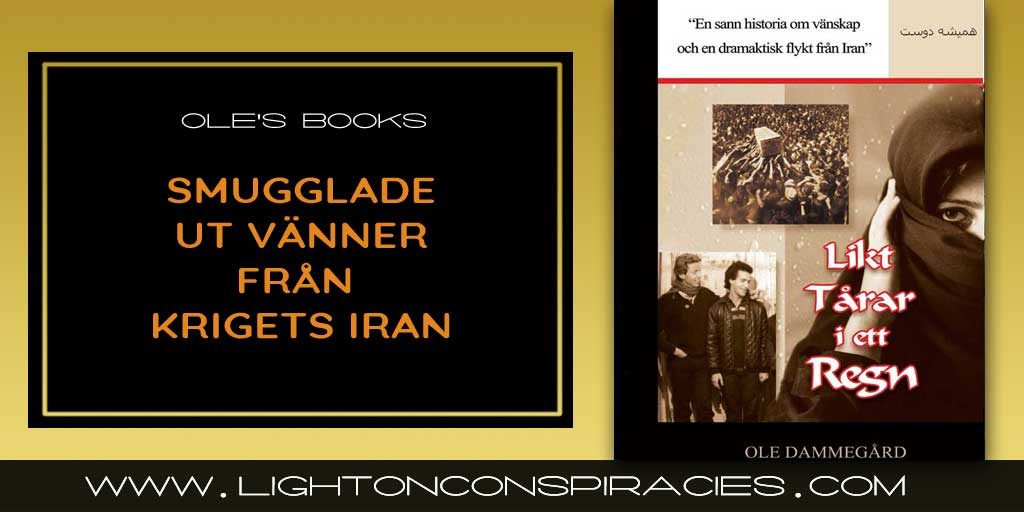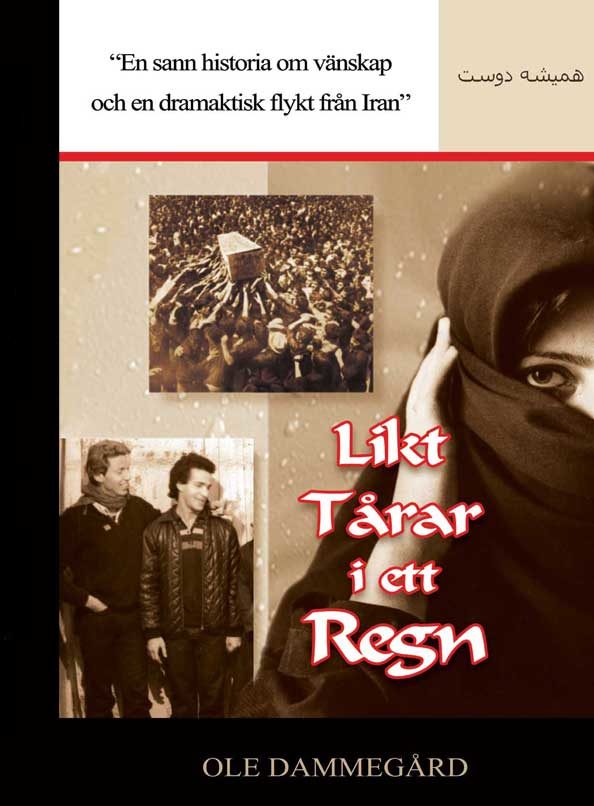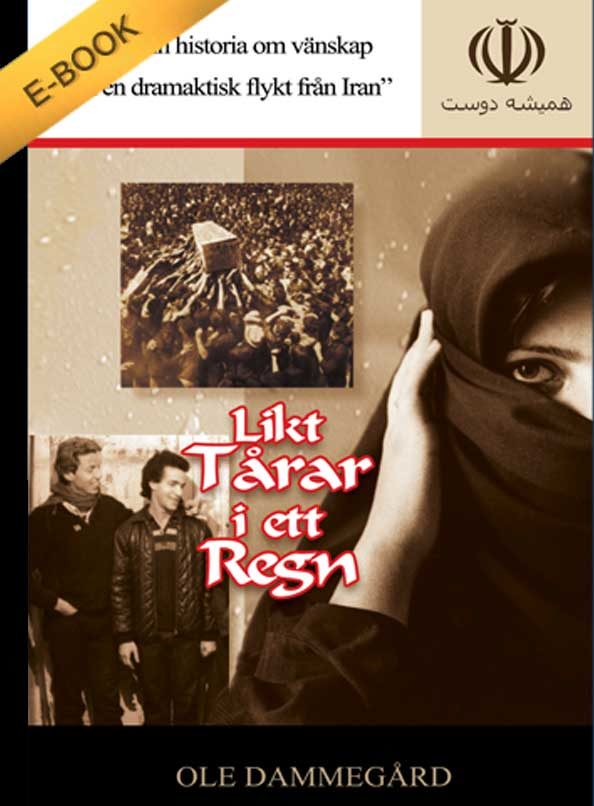 Ole Dammegård: 'En dag tröttnade jag på mitt invanda liv, fixade iordning min gamla cykel och gav mig ut i världen. Meningen med resan var att lära mig leva i nuet. Ett första mål var Sydafrika, men oförutsedda omständigheter förde mig i stället rakt in i krigets Iran.
Händelserna som utspelades här kom att bli en vändpunkt i mitt liv. Hela min värld, mina begrepp och värderingar vändes upp och ner och de våldsamt känslomässiga upplevelserna bröt ner mina inre murar, för att till sist lämna mig naken och öppen som ett sår. När situationen på grund av ett tragiskt mord blev outhärdlig för en av mina iranska vänner, satsade jag allt och hjälpte denne att fly. Tillsammans genomförde vi en dramatisk flykt från Iran via det forna Sovjet och Östtyskland i ett desperat försök att nå Sverige…
"Likt Tårar i ett Regn" är en sann och ömsint gripande skildring om verkliga människoöden i en osannolik, konfliktfylld värld. Den öppnar dörrar och belyser en annorlunda sida av Iran, dess människor och inte minst den politiska och sociala situationen i landet. Boken genomsyras av spänning och passion samt humanistiska ideal som icke-våld, medmänsklighet, tolerans och kärlek.
Författaren Ole Dammegård berättar om 'Likt Tårar i ett Regn och vad som egentligen hände. (In English)
Tack så mycket för din bok som ju verkligen behandlar viktiga förhållanden mellan människor. Jag är övertygad om att den kan användas i arbetet för större förståelse mellan människor av olika religion eller ras. Sådana här vittnesmål är mycket viktiga och jag hoppas att din bok når stor spridning.

Hasse Alfredsson, skådespelare och komiker/strong>
Det var med bävan jag tog itu med den här boken efter att ha läst dravlet 'Inte utan min dotter'. Men mina farhågor kom på skam: 'Likt Tårar i ett Regn' är för mig årets hittills bästa bok.

Arne Åkerlund, Dagbladet Nya Samhället
Jag vill med dessa rader bara säga att jag är mycket glad för att ha blivit uppmärksammad på Likt Tårar i ett Regn. Den är mycket intressant skriven. Avsnitten om Iran är naturligtvis särskilt spännande. Författaren har verkligen lyckats ge en beskrivning av sina erfarenheter härifrån som man känner igen och som ger en bra bild av det komplicerade livet här. Boken har nu införlivats med ambassadens bibliotek.

Hans Andersson, fd ambassadör i Teheran
Tack så mycket för din bok. Det var intressant och spännande läsning. Boken känns personlig och den för en nära det iranska, men kanske speciellt det pakistanska samhället och dess levnads- förhållanden. Tack än en gång för boken, jag uppskattade den verkligen.

Christina Pamp, fd ordförande Svenska Amnesty International
Vilken fantastisk historia…

Kay Pollack, Oscar-nominated filmregissör
"Likt tårar i ett regn" är en bok som stannar kvar i ens medvetande långt efter att man läst den. Den berör och rör om. Författarens erfarenheter av Iran och Pakistan känns oerhört äkta och levande. Många andra reseskildringar som jag har läst har jag upplevt som ytliga även om de varit underhållande.

I 'Likt tårar i ett Regn' finns inget ytligt. Han berättar om sina erfarenheter och delar med av sin kunskap och visar stor respekt och kärlek för de människor han skriver om. De politiska och historiska analyserna som dyker upp här och var i boken bidrar till att ge den dess djup och hjälper läsare som saknar djupare kunskaper om Iran att hänga med i berättelsen. 'Likt tårar i ett regn' är en av de absolut bästa böcker jag någonsin läst.

Lotta Kubiak, Mana Magasinet
Jag kunde inte slita mig från din fantastiska bok som återupplivade så många gamla minnen från mitt land…

Charla (Iranian refugee)
Författaren har lyckats skapa en nyanserad helhetsbild som stämmer väl överens med den verklighet Iran befinner sig i. Boken är mycket läsvärd och jag vill varmt rekommendera den.

MD Firouzabadi
Funderingarna i slutet av boken är mycket intressanta: Varför är vi så rädda 'för det som är annorlunda'? BOKEN ÄR MYCKET ANGELÄGEN I VÅR TID OCH HÄR I SVERIGE JUST NU, med tanke på invandrare och flyktigar och ökad förståelse mellan 'dem och oss'.

Irene Hidefalt and family
Boken berörde mig mycket. Jag tog sats inför läsningen, vilade ibland och fortsatte, fortsatte och fortsatte. Ville inte sluta, kände mig fångad och gripen.

Jag ville – och vill – veta mer. Boken gav mig svar på många frågor. Jag tyckte om att läsa berättelsen, kanske för att den var nyanserad, kanske för att den inte fördömande av människorna utan överlämnade åt mig att skapa mina egna tankar.
Äntligen förstår jag bättre, äntligen är folket döärborta ett folk som vi – ljusa och mörka, onda och goda. Nu kan jag bättre formulera tanakr och köänna sorg, över ett område på jorden som i mig varit tomt och bankt. Osäkerheten och rädslan inför dessa människor försvinner. Tusen tack, jag tror aldrig jag läst en bok om faktiska förhållanden som skakat mig så mycket. Den fylde ett tomrum, verkligen.

Ninni Holmquist
EN BOK ATT ÄLSKA, EN SORG ATT DELA.
I ett förord betonar författaren att det som händer i denna berättelse inte är romantiserat utan självupplevt och helt sant. Förutan att den kan betecknas som en politisk roman är den också en utvecklingsroman; ung man cyklar ut i världen för att såka något, sig själv kanske. Det blir inte lycka han hittar, men genom att dela andra människors smärta kommer han i kontakt med sin innersta, och förändrade, kärna.

Det finns spänning i berättelsen. Vid tiotiden på kvällen lästa jag förordet. Sedan sträckläste jag hela boken och kände mig totalt delaktig i förfatarens sorg och vanmakt inför människors olika villkor.Ole Dammegård kan använda känsloladdade ord utan att de låter patetiska. Han kan, utan att låta banal, påstå att vemodet i en sång lindar sig runt hans hjärta. En efterskrift med rubriken Funderingar utgör en flammande appell för människors lika värde.

Maj-Britt Lundstrom, SmålandsTidningen
Likt Tårar i ett Regn har berört mig väldigt, väldigt mycket. Långt inne! TACK! Tack Ole, för att du vågade!

Barbro Ingman
'Shadow of Tears' has let me know some reality absolutely unknown to me. Things like this should be known all around the world. All my thankfulness to the author and my emotional solidarity with the people reflected in this novel.

Hobby Hamouda, Egypt
To Access the Membership Lounge, please choose your perfect option below.