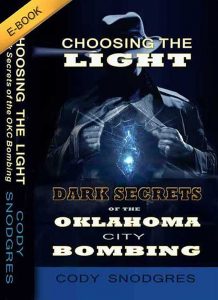 "For over 20 years, I was an Independent Contractor (IC), specializing in sensitive, covert assignments, as well as bodyguard work. In 1994 I was given the task to blow up the Alfred P. Murray building in Oklahoma City. This job came from an x-US military man, who told me he worked covertly for CIA. I refused on moral grounds. My strong opposition to attacking U.S. citizens on our own soil changed my status from a CIA asset into a liability, a private, Independent Contractor who "knew too much".
This is a true story about the U.S. Dept. of Justice's role in covering up the bombing in Oklahoma City on April 19, 1995, and the secret reasons why, I believe, it was ordered. Afraid to speak up until now, I am very lucky to be alive to tell this story. Hopefully,enough time has elapsed so that I will not be targeted again, for retribution,as so many "whistle blowers" have been before me. May God bless America, and our fellow Patriots who have fought and bled, for her."
(Please note: At this point, the book is only available as a raw edited ebook / pdf)
Please notice that there is no mouse over effect in Google Chrome, just click on the Button anyway.
Any problems downloading the book, please contact [email protected]
The receipt will say 'Better Blues Review'.
---