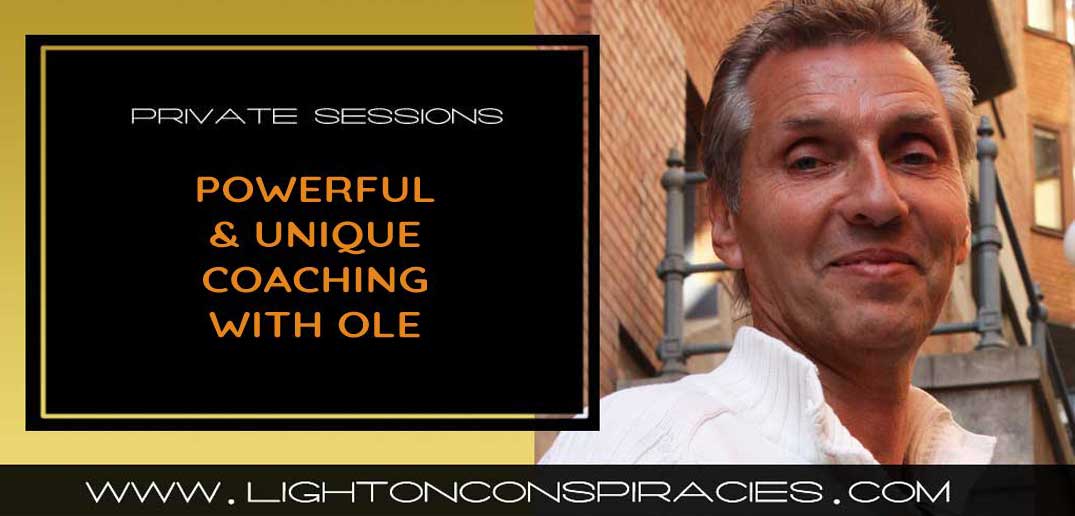 As you might know, Ole Dammegard has lived a very unusual life, taking him into areas of both dark conspiracies and sinister agendas, as well as enlightening Raj Yoga Philosophy and Spirituality. Over the years, more and more people have been searching his advice on how to deal with the tough challenges we have to face in these turbulent times. Even highly educated and skilled therapists and coaches have approached him, with sometimes life changing results. Now this possibility is also available to You, in the form of 1-hour Private Coaching Sessions with Ole.
These private sessions are aimed to:
• Change your view of the world
• Empower your Peace of Mind
• Teach you how to feel Free in any situation
• Understand what to look out for
• Re-establish connections with your family and friends, who might not be as aware as you are
You will be encouraged to bring up and go through whatever is most important for You. Ole will be a powerful hand to hold, or a jump start if you need it, letting it flow organically in your sessions.
Your private session will be held via Zoom, recorded (for You only) and then sent to you right after the session, which can be very valuable to have and to listen to again. Don't miss out on this unique opportunity!
Your Investment: 249 USD
TESTIMONIALS
I can't thank Ole enough for his work and for sharing his personal experience and wisdom in his one-to-one coaching sessions. Ole offers the very rare combination of knowing the extent of evil in the world and still holding his incredible light. In that sense, he was the 'master' I had been looking for, to show me the way back to trust, faith, love, light and humour, simply by allowing me to emulate how he deals with the darkness on a daily basis and holds his centre. I really appreciated his authenticity, humanity and sense of humour.
Andrea, Germany (coach)
Ole's way of talking brought me to tears of joy because he reinforced my beliefs in humanity. He is a true inspiration and it is my humble opinion that he is awesome!
Linda Cooper, USA
How did I feel after Ole´s sessions? Completely calm, full of hope, with the mental strength to rise above the craziness of the world we are all living through. My state of mind has become peaceful, determined and truthfully, I've lost all fear, although the warrior in me is still very much there!
Judy C, UK (coach)
If you're thinking of entering into this journey with Ole, don't hesitate, your soul will thank you for it. Honestly, if it hadn't been for my conversations with Ole, I don't know how I would have handled all the intense forest fires around my home. Not only have I been able to stay calm and focused, but I have been putting out and attracting some very, very positive energy during a crisis situation. I am filled with thankfulness and awe.
Emerald Eyes, California