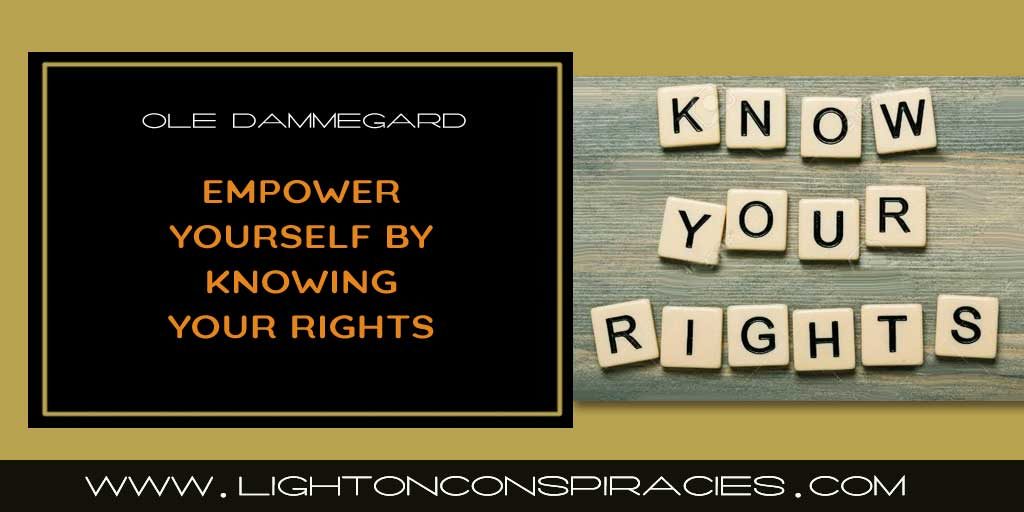 Whatever country you live in, inform yourself
(Excellent advice from the 'Festival Lawyer')
1. Know Your Rights
In any encounter with the police, a Judge will be looking after the fact at whether the police had a right to stop you in the first place. This is because the 4th Amendment of the Constitution says that you have a right as a citizen to freely go about your business unless the police can show they had a belief you were engaged in criminal activity.
What the police have to show to a Judge later depends completely on whether the Judge finds that you were being "arrested", 'detained' or were 'free to leave'.
If the police arrest you, they have to show they had 'Probable Cause' to believe you were committing a crime. On the other hand, the police will probably argue that they weren't arresting you but just 'detaining' you. A 'detention' is a situation where the police stop you briefly while they investigate a crime but haven't arrested you yet.
In a detention, the police have a much lower burden of proof. They only have to show a "reasonable suspicion" as to why they were detaining you. Or the police may argue that their entire contact with you was just a "consensual encounter" where you were free to go at anytime. In a consensual encounter, they don't really need to justify why they stopped you because they were just talking to you and you were "free to leave".
2. Remember the Key Phrases
The first question out of your mouth should be, 'Am I being detained?' Then, 'Why? What am being stopped for? Am I free to go, or am I under arrest?' Memorize this. Repeat it out loud: 'Am I being detained? Why? Am I free to go, or am I under arrest?'
Your job in this situation is to keep calm and cool. Be respectful but clear and firm in what you are saying. It is completely reasonable (and legal) to ask why you are being stopped and whether you are free to go. By asking from the start if you are under arrest or free to leave you are forcing the officer to tell you exactly what is happening and whether you are a suspect.
"No Thanks" Best DHS Checkpoint Refusals EVER!
Watch as a citizen polite refuses to…
Miranda Rights Myths vs. RealityOne of the most common urban myths out there is that the police have to read you your Miranda rights or the arrest gets thrown out of court.Not true. The police don't have to read you these rights. In fact, the police have the right to completely lie to you in any interview. The only time they have to read Miranda rights is if:A) You are under arrest
B) They want to use a statement you made after being arrested in court against you.The Right against Self Incrimination is in the Bill of Rights for a reason. USE IT. You should NEVER give a statement to the police without a lawyer. Period. No exceptions.In the above scenario, questions like "whose backpack is this?" should be answered with a firm, "Officer, I am choosing to remain silent. I want a lawyer."
Ex-FBI Agent Reveals What to Do If The Police Get in Your Face
On an edition of the Alex Jones Show, host Mike Adams talks Dale Carson, a trial lawyer, former FBI agent, police officer, detective, SWAT team member, undercover operative and private investigator who now defends clients against unfair charges. He is the author of Arrest-Proof Yourself, which is required reading for anyone wanting to avoid unnecessary interactions with the law.
[/video_text][/video_left]
4. Do not give the authorities consent to search you
One other major Constitutional right you have is the right to be free from an unlawful search of your person and property.
So let's say you are in a Festival when the police approach you. They won't let you leave and ask for permission to search your backpack. (Obviously, security has a right to search you as you enter a festival and go through their initial security screening.)
Cops always make it seem like you're some kind of a criminal if you express the slightest hesitation about having your property searched without a warrant. You can expect to hear an 'If you have nothing to hide, why can't we search your stuff?' type of verbal approach from the cops.
Know this: If the police is asking you permission to search you or your property, it usually means they know they are making an illegal search. Let that sink in for a second. When the police ask you 'Can I search this bag?', they KNOW they are asking you to let them make a search they are not legally entitled to make.
My advice? Respectfully tell the police officer, "I'm not giving you consent to search my property." If they ask what you have to hide, don't argue with them. Simply say again, 'Officer, I'm sorry I'm not giving you consent to search my person or my property. If I'm free to leave I'd like to leave. If not, I'd like a lawyer please…'
At this point, they can still search you if they have probable cause, but what you've done with your statements is make them declare their reason for doing so and force them to show they are legally entitled to search you.
5. Document the Encounter
The best thing to happen to Civil Liberties was the invention of the cell phone camera and YouTube. Just bear in mind, cops will do just about anything to avoid having you upload your video of them on YouTube or on Social Media. This is an area where your own comfort level has to dictate how far you push it. Legally, since you are in a public place you are completely entitled to film and record what is happening. But cops will sometimes argue that you are "interfering with an investigation" and threaten to arrest you. Or if you have had anything to drink they will suddenly decide that you are "publicly intoxicated" and try to arrest you. As a Festival Buddy you have to decide if you can safely film what is happening. That's because your other job as FB is to stay out of custody and post bail and let your buddy's family know he just got arrested.
I suggest that you say the following if cops order you to turn off your camera:
"Officer, I'm not interfering with you in any way. I am just documenting this arrest. This is a public place and I'm entitled to record this".
While making this statement, I would make a show of backing up and getting out of the way to prove that you are not interfering but just observing.
If things get crazier, be sure to get footage of the cop screaming "turn that camera off" before you turn it off. Everyone (You Tube, Media, Juries, Internal Affairs) loves footage of cops screaming "turn off that camera" to a calm person who is doing nothing but saying "I'm not interfering, just watching to make sure you are following the law."
What Happens If You Don't Cooperate At Border Check Points?
David Loy, the legal director of the American Civil Liberties Union in San Diego and Imperial Counties, talks to KPBS about whether you have to answer border patrol agents when they ask you questions at the border.