March 14 2019, 11:34 am
|
Last week, the world's first crisis simulation event, CrisisX: The Readiness Conference, took place in Auckland, drawing an audience of over 120 leaders from New Zealand's business community. Hosted by Drum, the newly launched content and experiences agency that is part of PHD Group New Zealand, the two-day event challenged organisations' current levels of preparation for crises through a series of creative-led simulations.
The conference also featured renowned business leaders and speakers, sharing their first-hand knowledge and experience in dealing with national and international crises with the event's delegates. Melissa Agnes, international keynote speaker and author of Crisis Ready, was flown in for her first speaking engagement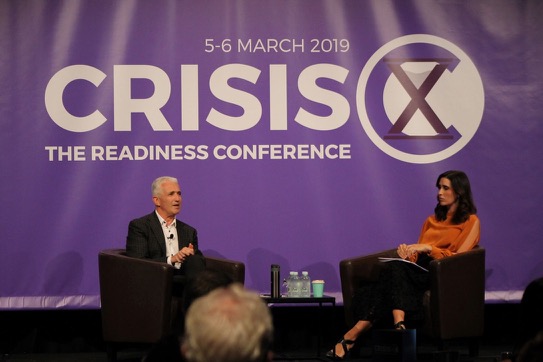 in New Zealand. Additional keynote speakers included former Mayor of Christchurch, Sir Bob Parker, and former Air New Zealand CEO, Rob Fyfe, who shared their experiences navigating crises such as the 2011 Christchurch Earthquake recovery and the 2008 Perpignan Air New Zealand plane crash respectively.
In between the speaker sessions, delegates
underwent a digital simulation whereby groups were put under the stress of a series of high-pressure scenarios designed to replicate an actual crisis. Teams had to navigate their way through a massive data security breach and physical security threat, before deconstructing and evaluating their approaches with the experts.
Says Joanna Braeckel, CrisisX attendee and Foodstuffs external relations manager: "CrisisX was an invaluable experience. The team put a lot of rigour around the simulations, pushing you outside your comfort zone and forcing you to think on your feet, all while gaining a different perspective. The simulations included machetes, disgruntled employees and data breaches, all of which could happen any day so it's important to be prepared for anything."
Some of the top tips shared at the first edition of CrisisX include:
·       Prepare for the worst thing that could happen – and double it
·       Make sure you've built networks and relationships – they become more important than a plan during a crisis
·       Consistent communication is important and allows you to control the narrative
·       Always practice honesty and humility
·       Admit and accept fallibility of yourself and your team
·       Never lose sight of the big picture
Says Dallas Gurney, CrisisX director and Drum's managing director: "The first edition of CrisisX has been a resounding success, with delegates telling us how the simulation has been an eye-opener for them and a catalyst in getting them to re-examine their current strategies for crisis management."
"The consistent theme that emerged from all the speaker sessions was the importance of authenticity, honesty, consistency, communication and compassion when in the eye of the crisis storm. We have received stellar feedback from our delegates, ensuring the event will definitely return in the future."