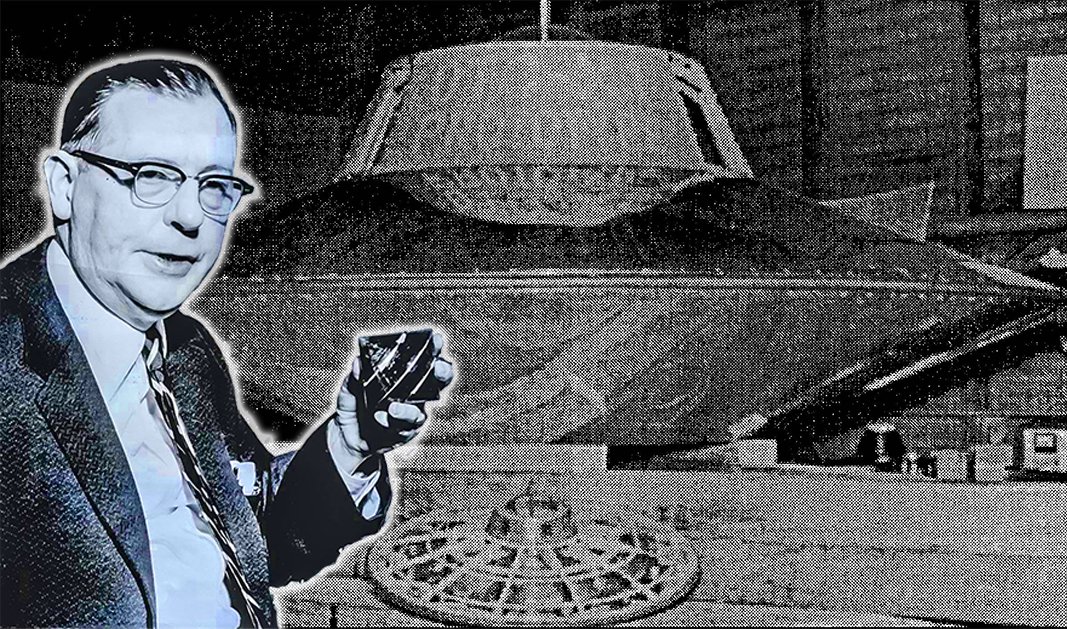 In Brief
The Facts:Anti-gravity technology has been around for decades, and there is much proof of that. One of the pioneers was Otis T. Carr, who was subjected to large amounts of ridicule and difficulty while pursuing his developments.
Reflect On:If the release of this technology would completely wipe out the Oil Industry and collapse the monetary system, does that legitimize the suppressing of it? Is our collective consciousness ready for technologies that would change our entire society?
It's astonishing to me how the topic of anti-gravity is still be placed in the "conspiracy theory" realm. This isn't the stuff of conspiracy theories or "fringe" science, it's a field full of reputable scientists and scholars, and real-world examples that have come not only from hard evidence but from extremely credible witness testimony as well.  One thing is for certain when talking about such topics: one must delve into the black budget world.
Take, for example, a recent investigation conducted by a Michigan State University professor and a former secretary from the Department of Housing and Development. Together, with a team of Ph.D students, they uncovered approximately $21 trillion that went missing and unaccounted for from the Department of Defense as well as the Department of Housing and Development. Why is this relevant? Because they discovered that the money was going to fund black budget, off the books programs that require no oversight from Congress.  This black budget world has been in operation for many years. You can read more about it here and here in two articles I've previously written on the subject.
Breakaway Civilization
The black budget world encompasses a separate civilization (Richard Dolan, "Breakaway Civilization") that has used tremendous amounts of resources in all areas, from science to archaeology, to move itself far ahead of the mainstream world technologically. How many people does it employ? Who is operating it? Many of these questions remain unknown, but if you follow the money it will give you perhaps somewhat of an idea.
Any civilian who invents technology that rivals the black budget world has always been subjected to harassment, and has difficulty getting their innovations or inventions out to the public. That's because these technologies have been 'classified', for if they were made public it would change everything, severely threatening the tremendous amount of power and control the global elite has over the human population.
The technology that's been developed within these programs could change the world, but instead it's used within the military-industrial complex for self-serving purposes, or so it seems. Efficient energy-generating devices that could eliminate the use of oil, or any other modern day fuel source for that matter, have been subjected to patent suppression.
Suppressed Technology List From 1971
For example, the previous list regarding technology suppressed was obtained by researcher Michael Ravnitzky in 1971. Most of the technology listed seems to be related to various military applications. You can view that list here. As Steven Aftergood from the Federation of American Scientists reports:
"The 1971 list indicates that patents for solar photovoltaic generators were subject to review and possible restriction if the photovoltaics were more than 20% efficient. Energy conversion systems were likewise subject to review and possible restriction if they offered conversion efficiencies in "excess of 70-80%." (source)
Why would higher energy efficiencies be a "national security threat?" If this is true, we are talking about solar technology that goes far beyond the best commercial panels available today, which usually can't even generate 20 percent efficiency.
"These concepts have been proven in hundreds of laboratories throughout the world and yet they have not really seen the light of day. If these technologies were to be set free worldwide, the change would be profound, it would be applicable everywhere. These technologies are absolutely the most important thing that has happened in the history of the world"  – Brian O'Leary, Former Nasa Astronaut and Princeton Physics Professor, speaking about over-unity energy, or 'free' energy.  (source)
Anti-Gravity
Anti-Gravity technology most probably falls into this category. According to the very first director of the CIA, Roscoe Hiellenkoetter, we know that there was an "official campaign of secrecy and ridicule" with regards to UFOs while stating that Air Force officers were well aware of their existence. Today we have electro-optical data and even physical evidence, not to mention credible witness testimony of technologies performing and demonstrating this type of technology.
We have statements from previous as well as the most recently retired Directors of Lockheed Martin Aerospace programs, like Steve Justice.  So, what did Mr. Justice have to say? Well, a lot of things. One of the first statements he made using the To The Stars platform is that, when it comes to the technologies he's been around, worked with, and seen, it would be an understatement to call them revolutionary. They are also working on a craft that mimics observations they've seen in UFOs, as he stated:
 It mimics the capabilities observed in unidentified aerial phenomenon by employing a driver system that alters the space-time metric. We have glimpses of how the physics of this works, but we need to harvest technologies from the Science Division to "realize" the capability. (source)
So, as you can see, this type of technology is no joke. Many of the UFOs we see may be made by humans, others, probably not. The point is, they are here, within the "science division."
"It is my thesis that flying saucers are real and that they are space ships from another solar system." – Hermannn Oberth , one of the founding fathers of modern rocketry.
Anti-gravity technology has been around for a long time.
A paper entitled "Outside The Box" Space & Terrestrial Transportation & Energy Technologies For The 21st Century written by Professor Theodore Lodre of the University of New Hampshire reviews the development of anti-gravity research in the United States and emphasizes how "research activity seemed to disappear by the mid-1950s." It then looks into recently reported scientific findings and witness testimonies "that show us that this research and technology is alive and well and very advanced. The revelations of findings in this area will alter dramatically our 20th-century view of physics and technology and must be considered in planning for both energy and transportation needs in the 21st century."